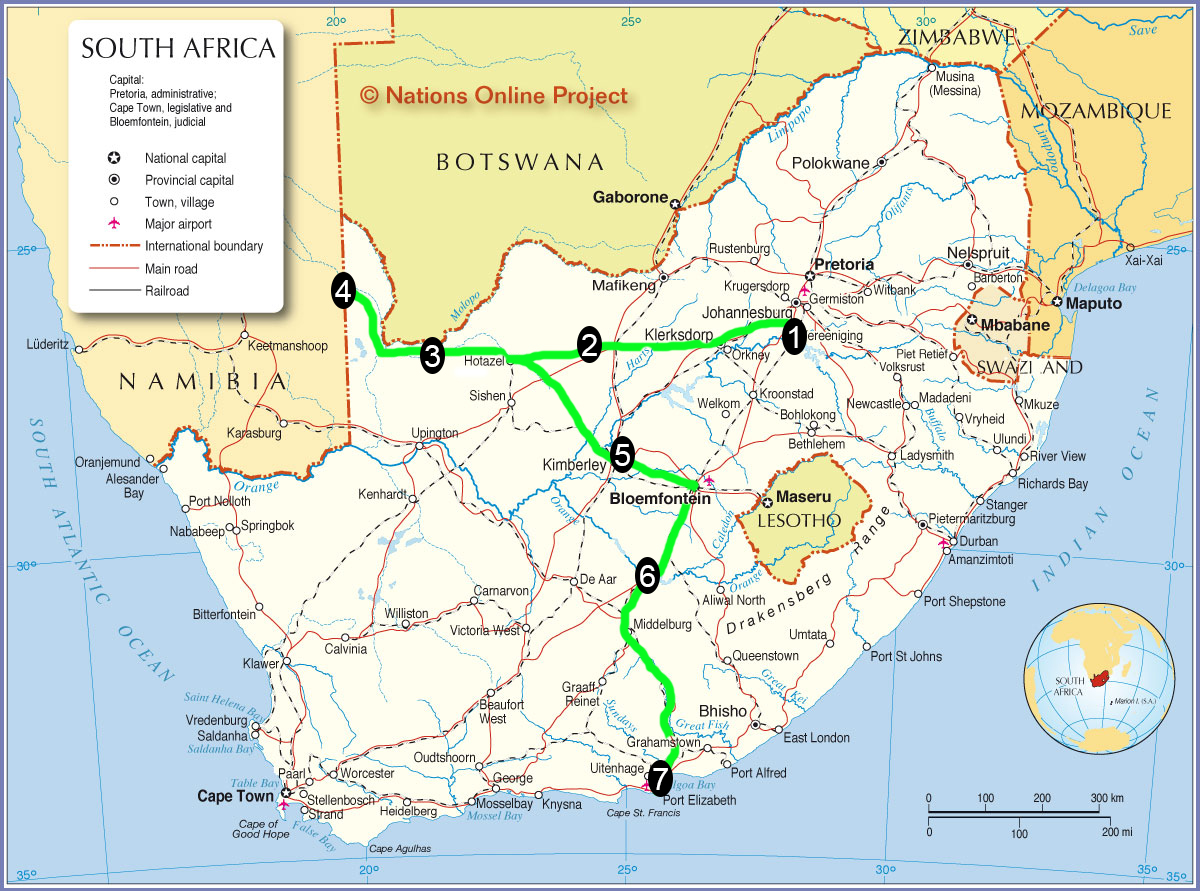 We zijn gisteren "thuis" gekomen in het huis van Tim en Tanja in Port Elizabeth. Na een prachtige rondrit van ongeveer 3000 km vanaf Johannesburg, door het noordwesten van Zuid Afrika, terug naar het zuid-oosten. (zie kaartje).
1. Na een goede vlucht vanaf Schiphol, via Londen, werden we op Johannesburg-airport opgehaald door Tim en Ryan. Even opfrissen en een gezellige kop koffie bij de familie van Ryan, en we gingen op weg richting Oost.
2. Bij het "Oog van Kuruman" overnacht, waar we 's morgens rustig rondgewandeld hebben om de prachtige bron en de natuur eromheen te bekijken. Daarna op weg naar Tanja.
3. Na een laatste 25 km erg hobbelige dirtroad stond Tanja ons op te wachten in Van Zylsrus, om ons de laatste 27 km te begeleiden naar haar project in het Kuruman River reservaat. Een plekje in the middle of nowhere in de Kalahari woestijn. Na een korte rondleiding door het basecamp, zijn we gelijk al op weg gegaan om een stokstaartjes kolonie te gaan zoeken. Prachtig om midden tussen de, druk naar eten zoekende, beestjes te staan en te zitten en alles te horen over hun gedrag en leefomstandigheden.
We zijn 3 nachten bij Tanja gebleven en alles gezien en gehoord van haar onderzoek naar de geelbek neushoornvogels, de "Yellow billed hornbills". De nestkasten opgezocht, de vogels hele dikke meelwormen gevoerd, zodat ze op enkele meters gefotografeerd konden worden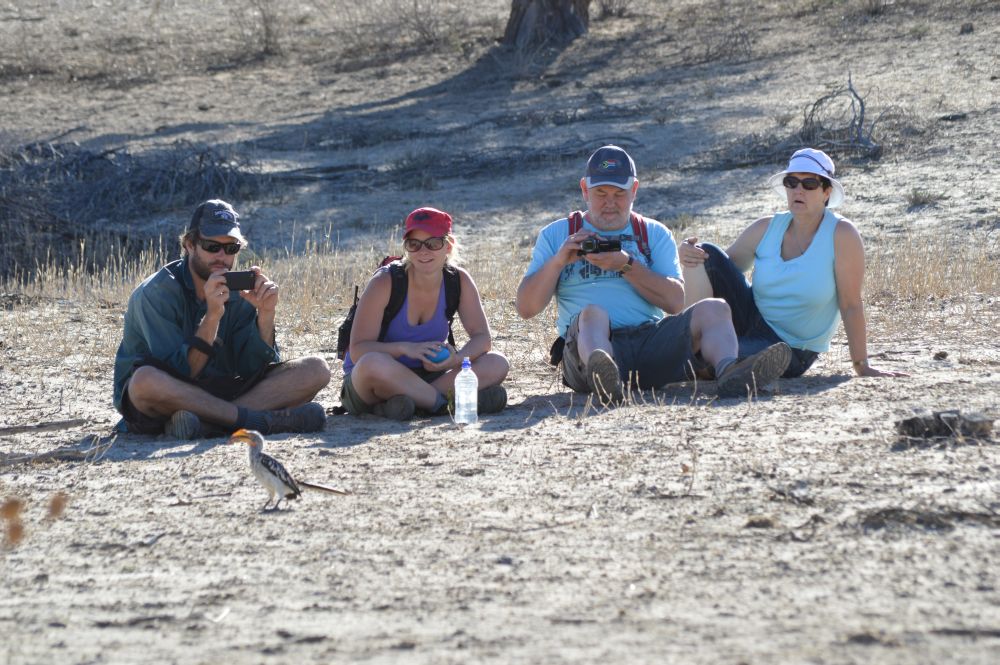 , maar ook de rest van de natuur bekeken, prachtige wandelingen gemaakt en de zonsondergang gevierd met een biertje bovenop de hoogste rode duin in het park. En natuurlijk 's avonds gebraaid: heerlijk als je eten klaargemaakt wordt door twee ervaren braaikoks, die precies weten hoe het vuurtje moet branden,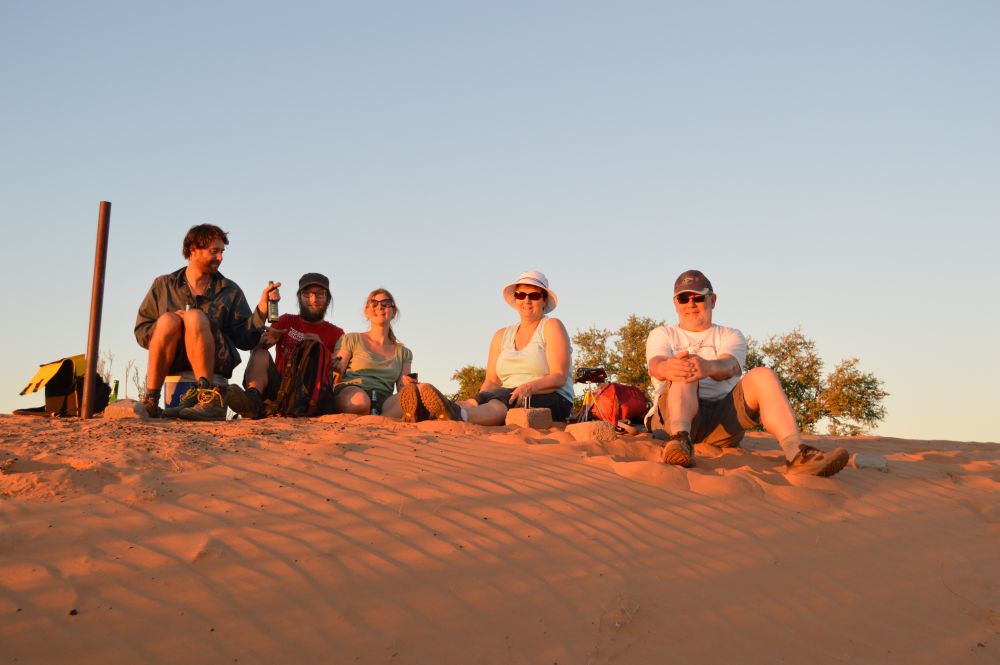 om het vlees, de aardappelen en het potbrood mals en gaar te maken. Ook het potjie (spreek uit: pojkie), een stoofpotje met allerlei groenten en verschillende soorten vlees, lekker pittig gekruid, was een succes.
Gezellig eten bij volle maan rond een kampvuur, goed gezelschap, rondscharrelde schorpioenen in de buurt, het geluid van vogels en insecten op de achtergrond: "life is goooood".
4. Woensdagochtend zijn we vertrokken naar het Kgalagadi transfrontier park: een natuurreservaat in de noordelijkse punt van Zuid Afrika, tussen Namibie en Botswana. 3 Dagen rondgereden, gehobbeld over zandpaden, een paar k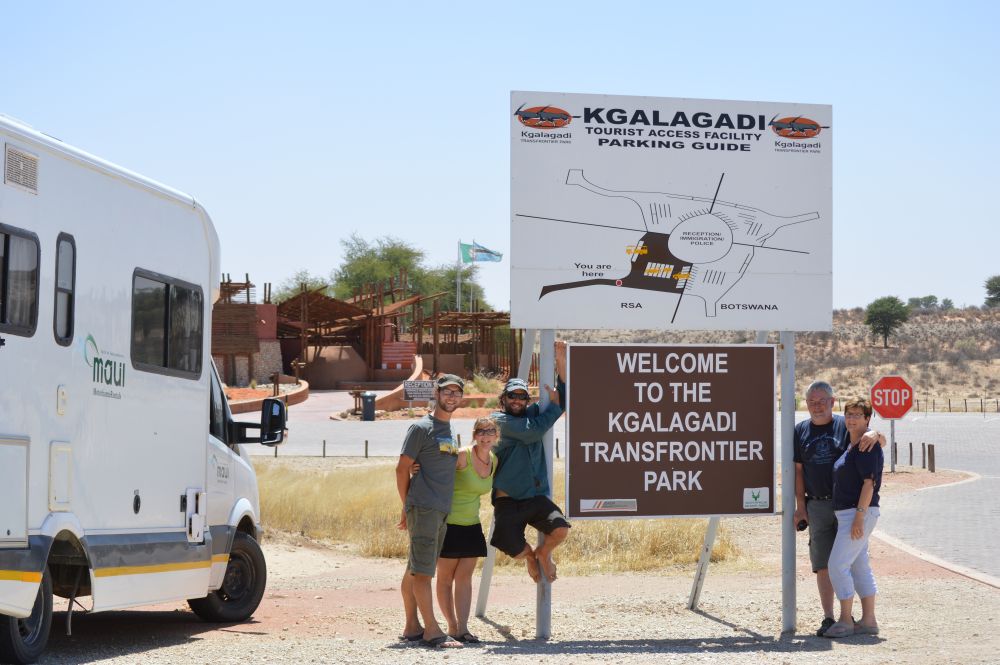 eer de banden uit het zand moeten graven (eerst kijken of er geen leeuwen in de buurt waren), genoten van overweldigende landschappen en elke keer weer de verassing van de diverse dieren in het wild: Leeuwen liggend bij een pas gevangen gemsbok, hyena's in een waterpool, giraffen, cheetahs in de schaduw, kuddes gemsbokken, wildebeesten, elanden, hartebeesten, steenbokjes, struisvogels met kuikens, jakhalzen, gieren die een karkas aan het leeg eten zijn. En dan de ontelbare verschillende vogels: van de kleinste wevertjes, tot de enorme adelaar. Bij bijna elke boom moest wel gestopt worden, omdat er weer wat bijzonders te zien was en gefotografeerd moest worden. De middag temperatuur liep op tot 46°C, maar dat is geen probleem bij zoveel moois. Liters water drinken om voldoende te blijven verdampen en 's avonds koelt het weer lekker af, zodat bij de braai heerlijk gegeten kan worden en een goede nachtrust verzekerd was.
Eigenlijk hebben we nog te weinig tijd om het hele park, dat net iets kleiner is dan Nederland (36000km2), te doorkruisen. Maar het wordt tijd om richting Port Elizabeth te gaan, want de camper moet op tijd ingeleverd worden. Zaterdag ochtend vertrekken we weer naar Tanja's camp om haar weer netjes "thuis" af te zetten. De avond is een beetje winderig en dus wordt er heel druk gezocht naar schorpioenen. Er worden met behulp van ultravioletlampen ongeveer 30 exemplaren gevonden. Prachtige beestjes, maar wel heel giftig. Duidelijk is nu wel waarom dichte schoenen 's avonds verplicht zijn.
5. Zondagochtend afscheid genomen van Tanja. Heel jammer dat ze niet verder met ons mee kan naar PE, maar ja, niet iedereen kan zo lang vakantie nemen. Na een stevige rit, met onderweg een enorme thunderstorm, nooit geweten dat er zoveel regen tegelijk kan vallen, komen we bij The Big Hole van Kimberley aan. De camping die we gepland hadden, bleek niks te zijn, dus besloten we om na het bezoek aan het grote gat, door te rijden naar de !Gariep dam. Hier kwamen we pas om 23.00uur in het pikdonker op de camping aan, omdat we onderweg heel veel "stops and go's" tegenkwamen en bijna de hele weg door stortbuien en onweer hadden.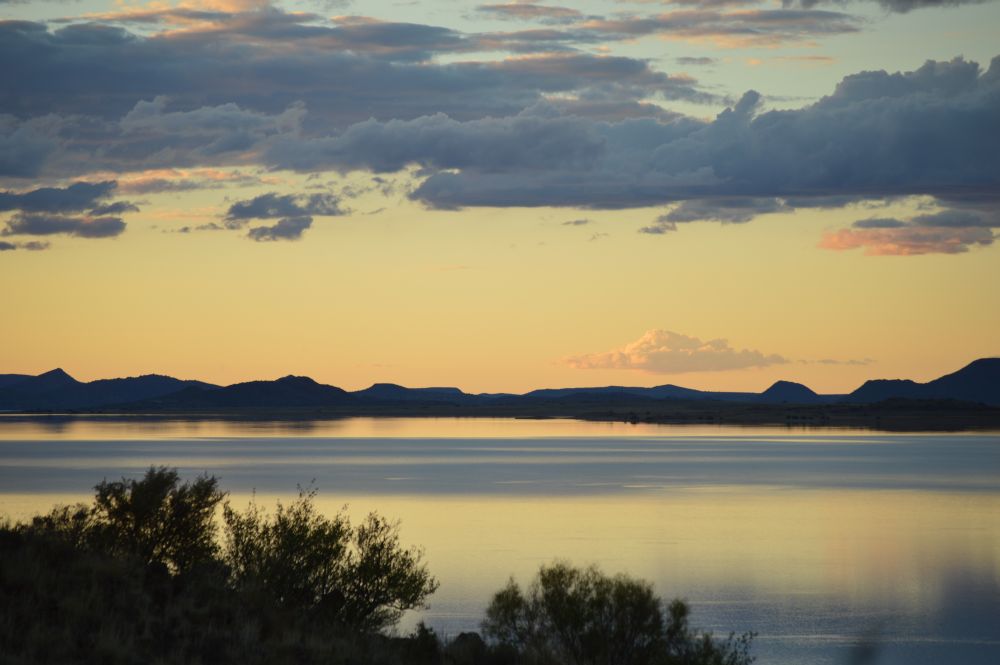 6. Wat een verrassing toen we 's morgens wakker werden en eindelijk konden zien waar we waren: prachtig weer, een overweldigend uitzicht over het meer en zijn eilanden, vogels die fluiten en een prachtig aangelegde camping. De hele ochtend gestruind langs het meer, 's middags gewandeld over de dam en koffie gedronken op een mooi uitzichtpunt. Met een windstille zwoele avond met een prachtige zonsondergang en een gezellige braai, sluiten we onze campertrip af.
We staan om 6.00uur op en vertrekken naar Port Elizabeth, waar we om ongeveer 14.00uur bij Tim en Tanja's huis aankwamen. We zijn pas op de helft van onze vakantie in Zuid Afrika, maar we hebben al zoveel gedaan en gezien, dat het al veel langer lijkt.
Groeten aan iedereen in Nederland,
Tonnie & Henriëtte