Hallo vrienden en familie,
Wat was het een gezellig feestje afgelopen zondag in huize Vink. We vonden het allebei heel erg fijn dat jullie allemaal ons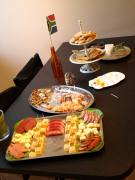 wilden uitzwaaien. We hebben gezellig kunnen kletsen, genoten van de heerlijke hapjes die door verschillende koks (bedankt buurvrouw Marian en ome Boudewijn en mama en papa!!!) waren bereid.
Om van deze leuke dag te kunnen nagenieten heeft ome Wim heel veel mooie foto's geschoten, waarvan we een leuke selectie onderaan dit bericht zullen laten zien. Kortom iedereen heeft dit uitzwaaifeestje helemaal compleet gemaakt!
's avonds hebben we lekker met het gezinnetje (met alle uitbreiding natuurlijk) getafeld om over het gezellige feestje na te praten.
We zullen jullie vanaf nu via TnTtracks.com op de hoogte houden van alle leuke en spannende dingen die we gaan meemaken en we kijken uit naar de leuke berichtjes die we mogen ontvangen van jullie!
Nogmaals bedankt!!
Tanja en Tim
Above pictures show friends and family who were invited to our goodbye party at Tims parents place.